Engaging with a large rugby audience and helping them along the customer journey

The Project
As the Official Banking Partner of the Wallabies, HSBC has looked to connect with rugby fans across Australia. 
With a desire to take their digital sponsorship strategy beyond brand awareness, Greenroom was engaged to help turn fans into HSBC customers. 
By using a data-driven approach, we created a nurture strategy to engage with a large rugby audience and help them along the customer journey.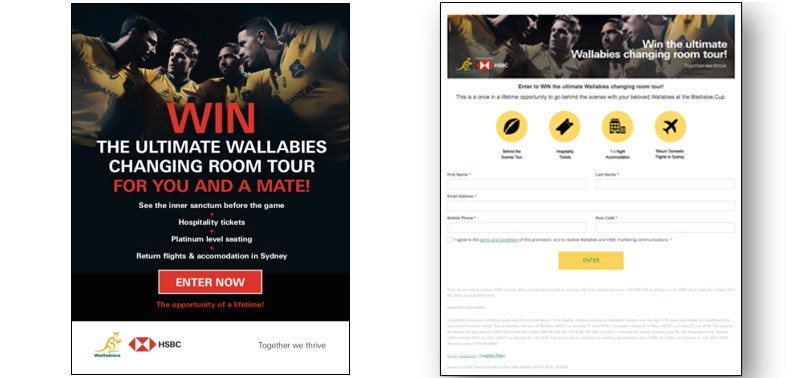 The Solution
To build HSBC's rugby database we devised a competition, giving the winner a once in a lifetime opportunity to experience the excitement of the Wallabies changing room before a Bledisloe Cup showdown against New Zealand.
To enter the promotion, people were simply prompted to supply their name and basic contact information, helping to maximise the number of entries.
With their details submitted into the draw, respondents were then encouraged to fill in a bonus HSBC survey for an additional 10 entries into the competition.
65% of all entrants filled out this survey, giving HSBC a deeper insight into the demographics and financial product preferences of fans.
Everyone who entered the competition was then taken on a lead-nurture journey, receiving communications centred around engaging rugby content, coupled with special HSBC retail offers tailored to their individual preferences.
Thanks to our marketing automation solution, we were then able to identify and track people displaying an interest in different HSBC products. These hot leads could then be contacted by HSBC representatives or targeted with further retail offers through email.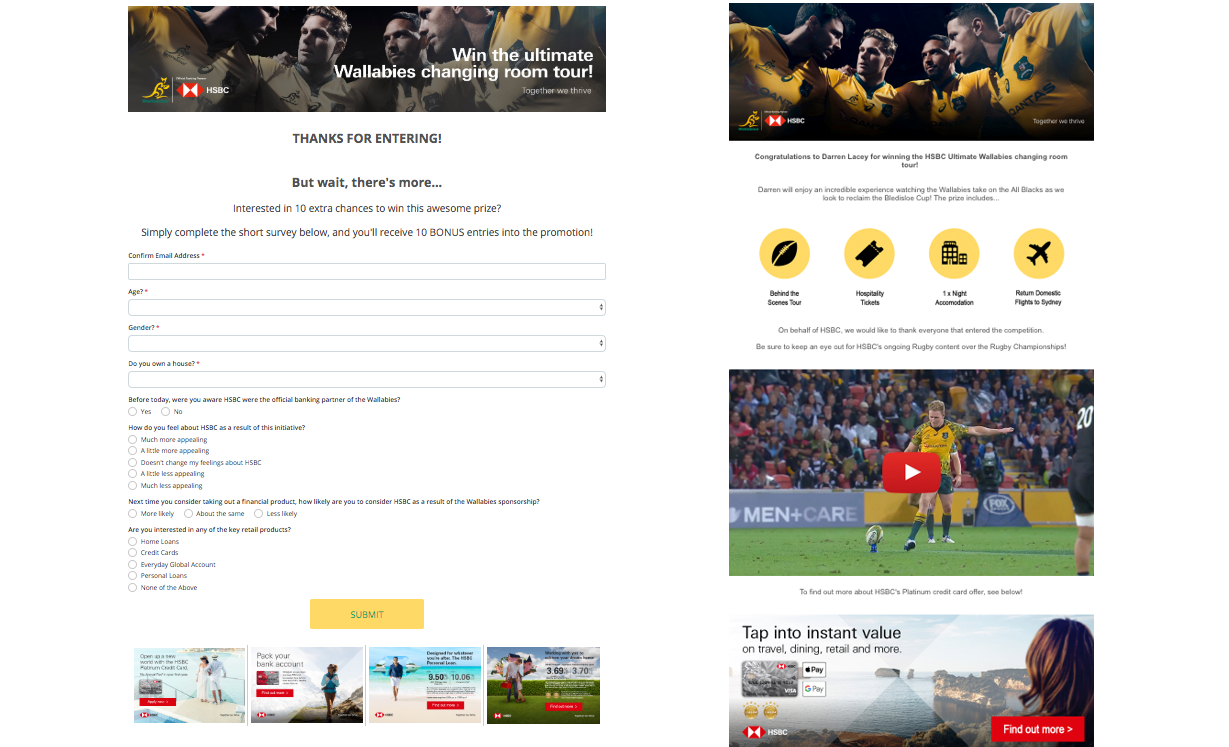 The Results
Right from the outset, we identified many fans displaying high-levels of interest in some of HSBC's core offerings, including credit cards, everyday accounts, home loans and personal loans.
With average email open rates exceeding 40% (2 x higher than the industry average), HSBC now has a platform to communicate to fans, while also pushing relevant offers to an engaged audience.
Our strategy has also been able to provide HSBC with valuable insights into its target audience, helping to validate the effectiveness of its partnership with the Wallabies.
HSBC now has a platform to communicate to fans, while also pushing relevant offers to an engaged audience